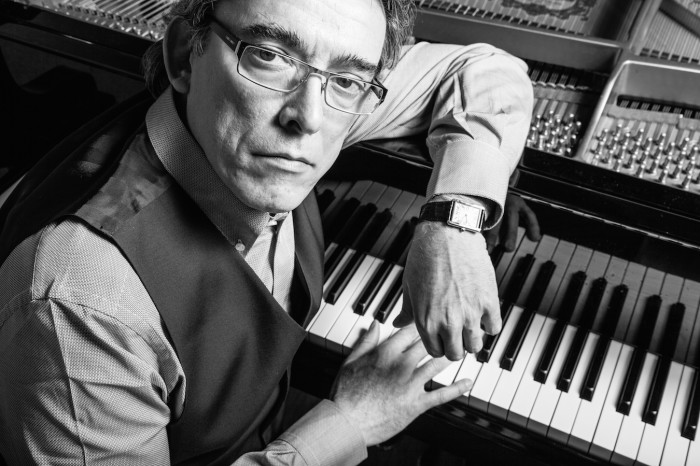 Quando si parla del pianismo italiano è impossibile non ricordare la grande tradizione pianistica di questo paese; immediatamente la nostra mente rievoca il leggendario Ferruccio Busoni, ma anche Arturo Benedetti Michelangeli, Maria Tipo, Maurizio Pollini… Andrea Turini, è l'erede ed il continuatore di questa grande tradizione storica ed è uno dei massimi rappresentanti del pianismo italiano della sua generazione.
Andrea Turini inizia i suoi studi presso il Conservatorio di Parma, dove si diploma sotto la guida della professoressa Anna Maria Menicatti. Continua i suoi studi musicali presso la Ecole Normale "A. Cortot" di Parigi dove ottiene il diploma superiore in musica da camera; conclude il suo perfezionamento pianistico sotto la guida di due illustri Maestri: il russo Kostantin Bogino e l'uruguaiano Humberto Quagliata.
E' vincitore di vari concorsi pianistici internazionali, tra cui meritano particolare menzione il 7° Concorso Internazionale "Città di Roma" e l'11° Concorso "IBLA Grand Prize". Quest'ultimo concorso gli riconosce non solo il primo premio, ma anche il premio come migliore interprete di Bach e Ravel e gli consente di debuttare con successo alla prestigiosa "Carnegie Hall" di New York. La sua carriera si sviluppa ulteriormente nelle principali città d'Europa, Asia e America, sia in recital come solista e solista con orchestra, sia effettuando registrazioni per radio e televisioni.
Appassionato interprete di musica da camera, sono molto apprezzate le sue interpretazioni in duo pianistico con Maria Grazia Petrali e con il rinomato "Trio d'Archi di Firenze".
La sua discografia include opere di Bach, Brahms, Rachmaninoff e Ravel.
E' docente di pianoforte principale presso il Conservatorio di Musica "G. Rossini" di Pesaro. E' regolarmente invitato come docente di Master Classes di perfezionamento pianistico.
E' Presidente dell'Accademia Musicale Valdarnese e Direttore Artistico del "Festival di Musica Classica Città di San Giovanni Valdarno".
Copyright Artistas Internacionales de Madrid – España
ESPAÑOL
Cuando se habla de pianismo italiano es imposible no recordar la gran tradición pianística de este país; súbitamente viene a nuestra mente el legendario nombre de Ferrucio Busoni, y así Arturo Benedetti Michelangeli, María Tipo, Maurizio Pollini…
Hoy se presenta Andrea Turini, heredero y continuador, de esta gran tradición histórica. Turini es uno de los máximos representantes del pianismo italiano de su generación.
Su nombre es ampliamente conocido en España desde que en 1990 debuta para el Centro para la Difusión de la Música Contemporánea del Ministerio de Cultura, con tal éxito que sus giras por nuestro país son constantes. Ha tocado en los más importantes auditorios de la geografía española incluidas las islas.
Aún recordamos su memorable concierto en el Auditorio Nacional de Música de Madrid dentro del ciclo de Cámara y Polifonía, transmitido en directo por Radio Clásica de R.N.E.
Comienza sus estudios en el Conservatorio de Parma, donde se diploma bajo la guía de la profesora Anna Maria Menicatti. Continúa sus estudios en la Ecole Normale de Paris donde obtiene el diploma de piano superior con Matrícula de Honor, y concluye su perfeccionamiento bajo la dirección de dos ilustres Maestros: el ruso Konstantin Bogino y el uruguayo Humberto Quagliata.
Ganador de varios concursos internacionales merece especial atención su primer premio del 7º Concurso Internacional "Ciudad de Roma" y del 11º Concurso Internacional IBLA Grand Prize, donde además es premiado como el mejor intérprete de Bach y Ravel. Este último concurso le ha permitido debutar en la emblemática sala Carnegie Hall de New York con un rotundo éxito. Así su carrera se desarrolla en las principales capitales de Europa, América y Oriente, tanto en recitales como solista de orquestas.
Apasionado intérprete de la música de cámara, son famosas sus interpretaciones en dúo con Maria Grazia Petrali y formando parte del famoso Trío de Florencia.
Su discografía incluye obras de Bach, Brahms, Rachmaninoff y Ravel. Es titular de la Cátedra de Piano Superior en el Conservatorio "G. Rossini" de Pesaro y es frecuentemente invitado a realizar Master Class.
Actualmente es Presidente de la Accademia Musicale Valdarnese asì como Director Artìstico del "Festival di Musica Classica Città di San Giovanni Valdarno".
Copyright Artistas Internacionales de Madrid – España
ENGLISH
Talking about Italian piano is impossible not to remember the great pianistic tradition of this country; our mind immediately recalls the legendary Ferruccio Busoni, Arturo Benedetti Michelangeli, Maria Tipo, Maurizio Pollini … Andrea Turini is the heir and successor of this great historical tradition and is one of the greatest representatives Italian pianists of his generation.
Andrea Turini began his studies at the Conservatory of Parma, where he graduated under the guidance of Professor Anna Maria Menicatti. He continued his musical studies at the Ecole Normale "A. Cortot "in Paris where he obtained his diploma in chamber music ; concludes his improvement piano under the guidance of two illustrious Masters : Russian Konstantin Bogino and the Uruguayan Humberto Junket .
Winner of several international piano competitions, including deserve particular mention the 7th International Competition "Città di Roma" and the 11th Competition "IBLA Grand Prize" . This competition recognizes not only the first prize , but the prize as the best interpreter of Bach and Ravel and allows him to make his debut with success at the prestigious " Carnegie Hall " in New York. His career is further developed in the main cities of Europe, Asia and America , both as a solo recitalist and soloist with orchestra , either by making recordings for radio and television .
Passionate performer of chamber music, are very much appreciated his performances in piano duo with Maria Grazia Petrali and with the renowned "String Trio in Florence".
His discography includes works by Bach, Brahms, Rachmaninoff and Ravel.
He's professor of piano at the Conservatory of Music "G. Rossini" in Pesaro. And he's regularly invited as a lecturer in the Master Classes piano master.
Turini is the President of the Academy of Music and Artistic Director of the Valdarno "Classical Music Festival City of San Giovanni Valdarno".
Copyright Artistas Internacionales de Madrid – España